With a push to make more testing first-line, potential exists for lowering costs and increasing diagnostic yield in the near future.
This results in a more affordable diagnostic odyssey for patients around the world.
Below are five aspects of the diagnostic odyssey which may provide insight into what the future may hold.
---
1. Breaking Down Sequencing 🧬
Genome-Wide Sequencing
The term sequencing in this context, means to extract and sequence raw genetic data from an organism[1]
Genome-Wide Sequencing (GWS) is a generic term which encompasses several types of sequencing
Perhaps the most difficult aspect of sequencing is analyzing massive amounts of data efficiently and quickly[2]
Whole-Genome Sequencing may result in a total file size nearing 150GB[2]
Whole-Exome Sequencing may result in a total file size nearing 6-8GB[2]
Across the board, human genome sequencing costs are being driven down as technology improves[3]
Average cost to sequence a human genome in September 2001: ~$92,000,000
Average cost to sequence a human genome in September 2020: ~$700
Whole-Genome Sequencing
Whole-Genome Sequencing (WGS) captures variants which may be overlooked by other targeted approaches[4], [5]
Used often to specifically identify mutations which act as catalysts for various cancers[4]
WGS has led to more efficacious therapies and treatments for patients, which by proxy, leads to higher diagnostic yield[5]
Whole-Exome Sequencing
Whole-Exome Sequencing (WES), despite representing <2% of the human genome, contains and covers 100% of protein coding genes[6]
Cost for WES usually includes sequencing and analysis; historically this has varied greatly, but has leveled off in recent years[7]
Reported variance ranging from $1,000 up to $15,000[7]
Further support and evidence that earlier WES testing application results in cost-saving benefits for patients[7]
This targeted approach may be favored over WGS for patients where the etiology, or cause of a disease, may be linked to protein
Several recent studies have found that deploying ES as a front-line test would save substantial cost[8]
The cost for WES shown below includes the sequencing, analysis, and reports related to a patient's exome:
Cost of singleton WES is ~$1,600, whereas trio ES is ~$4,100[4]
Diagnostic yields were 26.6% for singleton WES, and 34.4% for trio WES[6], with some studies showing up to 42%[9]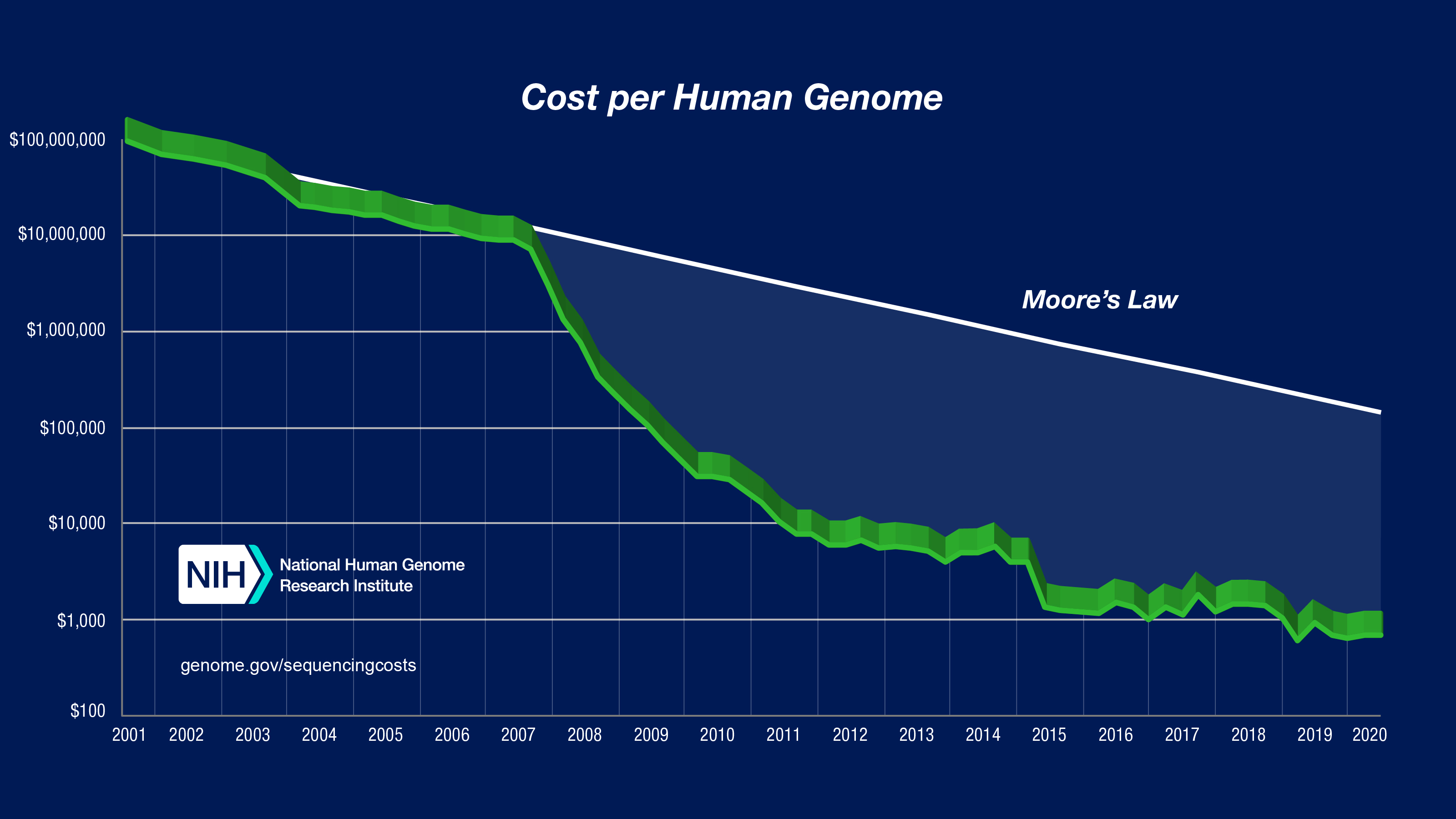 The average cost of sequencing a single human genome, from 2001 to 2020, image courtesy of

NHGRI
2. Cost, Time, and Seeking Diagnosis ⌛
Genetic testing has many facets, each with their own cost[10]
Sequencing, analysis, reports, and follow-ups are a few examples
In many cases, diagnoses takes quite some time, especially for individuals younger than 18 years of age[11]
~65% of patients spend at least $4,700* across at least 6+ years before being diagnosed successfully
~10% of patients spend at least $5,700* across 10+ years before being diagnosed successfully
Average annual cost of ~$1,500* per family, with an average total cost of ~$5,050* before a successful diagnosis
*cost figures shown include diagnostic testing, visitation, consultation, analysis, physician appointments, travel, and caregiver costs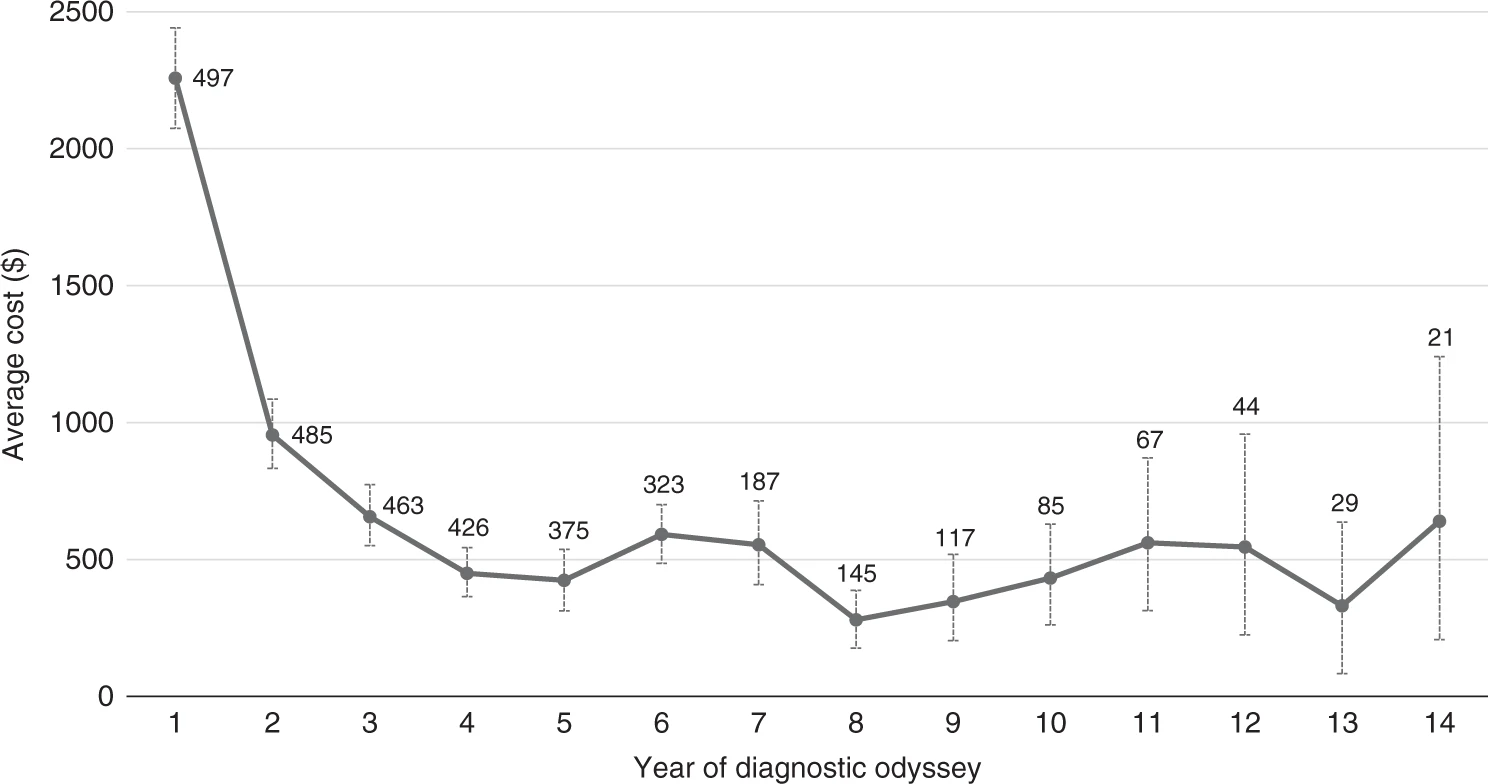 The journey is frustratingly long, and costly; image courtesy of

Springer Nature
3. Limiting Factors 😷
The number of cohorts for the majority of studies is usually very small, which raises uncertainty regarding broad population representation[6],[12]
GWS availability is scarce, with cost of services being heavily reliant on care center funds[13]
As it becomes more available, cost will be driven down, resulting in becoming more affordable for a wider range of rare disease patients
Extracting a larger scope for genomic testing may result in more beneficial data regarding family members' potential to have a similar disease
Historically, the scope in which genetic testing is done has been very narrow, especially for rare disease patients
4. Testing Priority 🏥
Studies have shown the earlier first-line testing is deployed for such cases, the higher cost-saving becomes[14]
Data within this area of the diagnostic odyssey is very scarce; with future studies, a pathway may become more evident
One positive takeaway is that affordability is improving, opening more possibilities up for patients with rare diseases
Cost-effectiveness continues to be studied within the diagnostic odyssey space, and will continue to benefit patient perspectives
5. What the Future Holds 🌅
By making things such as WGS a first-line practice, the diagnostic odyssey is greatly shortened, and will continue to shorten
Large steps forward within technology will allow for diagnostic trends to both shift and become more efficient for patients[15], [16]
Artificial Intelligence[17]
Machine Learning[17]
Big Data[17]
More open discussion and networking within the biotech industry will allow for more pathways to be created
Increased accessibility will allow for more patients to participate in and receive benefits from such technology via services
More affordable than before, with progress being made every day, providing more hope to patients still on their diagnostic odyssey
---
Sources